Original osho's robe for sale
To help our moving to Japan in October 2019, we are selling an authentic and original Osho's robe, color Light Green for the body/Light Blue for the sleeves (Rajneeshpuram style). See more photos below. Osho used this robe when he was in Rajneeshpuram, USA, and then it has been given as a gift to the new Osho Kota commune in Zurich, Switzerland. All European communes were receiving gifts from Osho in Rajneeshpuram. We got this robe when the Osho Kota commune went bankrupt in 1986. The robe is in absolute great condition. Email us for more info.
AUCTION
Robe will be sold to the highest price, until March 31st, 2019.
Current price offered : 2500 EUR ou 2800 USD
updated on March 13, 2019
on the last day, bidders wil be contacted for last bid before closing.

By clicking "Give your price", you will email us your bid price and your personal details (name and address).
The current price is updated each time we receive a higher offer. Please do email us only if you want to bid... thank you!
The robe will then be sent via EMS to the highest bidder after the end of the auction, March 31st. 2019
Great care will be taken for shipping
About Deepa and Shantidharm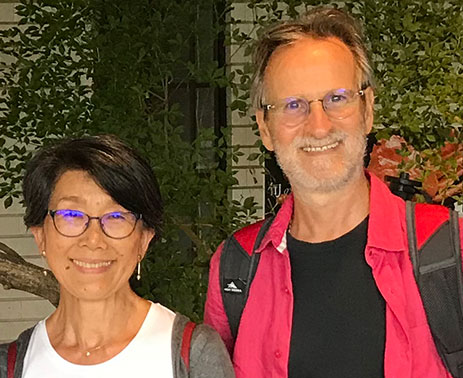 Ma Amrita Deepa, born in Japan, took sannyas in the Osho Kota commune in Zurich in 1983. She then went to the Osho Doerfchen commune in Berlin in the fall of 1983. She came back to the Osho Kota commune in Zurich in the fall of 1985.
Swami Shantidharm, born in France, went to Poona, India, in 1980 and took sannyas in April 1981. After a year in the Osho center of Maison Alfort near Paris, he went to Rajneeshpuram for 6 months. Leaving Rajneeshpuram he went to the Osho Uta commune in Cologne, Germany, and then joined the Osho Doerfchen commune in Berlin in the fall of 1983. There he met Deepa and since then they have stayed together wherever the flow of life was taking them, France, Switzerland, India, Italy, travels around the world, etc.
They are currently living in south France and have decided to move to Japan in 2019 and start a new life there.